After upgrading to ArcGIS 10.3 last week, I went through the usual process of reapplying all of my settings and preferences in ArcMap. To expedite this process, a couple years ago I created a list of all of my preferences in ArcMap: toolbars, ArcMap Options, Geoprocessing Options, menu items, Environment Settings, and Advanced ArcMap Settings. At the suggestion of some of my colleagues, here's the list in full.
1. Toolbars
By default, ArcMap shows two toolbars: Standard and Tools.

There are almost 50 other toolbars that can be added by right-clicking in the header area (or toggling in the Customize dialog).

But turning them all on at once is not a good idea. This overload of toolbars, many of which are only useful in specific contexts, is one of the reasons Microsoft moved Office to the ribbon-style UI. Esri has implemented the same ribbon in ArcGIS Pro, though I will miss some of the customization aimed at power users.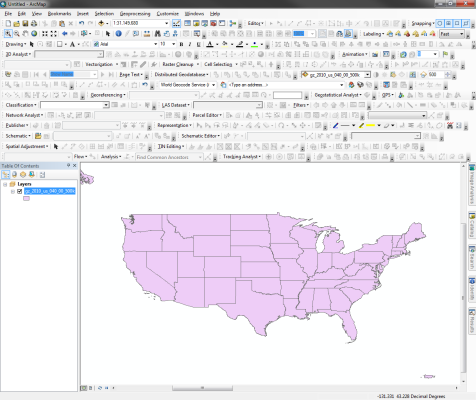 So for my day-to-day ArcMap work, I have the following toolbars enabled: Standard, Editor, and Snapping in the first row; Tools, Layout, and Labeling in the second row; and Draw and Graphics in the third row. Organizing the toolbars in these rows allows for a comfortable fit in a window that is around 1,200 pixels wide.

Customize mode also allows adding or removing specific tools on specific toolbars if further tweaks are needed.