Sarah and I visited Chicago for the first time in September 2014. Neither of us had ever been before, and it was a treat to explore a new city and see old friends.
We flew from Logan to O'Hare early Friday morning, arriving in The Loop by midday. Our hotel room at the gorgeous Blackstone Renaissance was already available, so we dropped off our bags and set out for some lunch.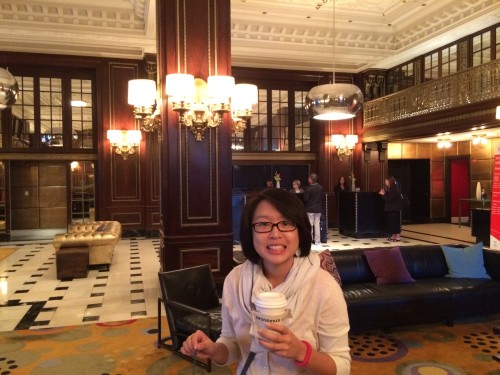 We walked over to the financial district and had a fabulous lunch at a little place called Saucy Porka. They are known for their "bacos" (a portmanteau of bao and taco) with a variety of savory Asian fusion flavors. After lunch, we went on the obligatory architecture boat tour, which a number of folks had recommended despite sounding like a tourist trap. In the end, the tour was fantastic, especially having taken an architecture class in college, and served as a great introduction to Chicago.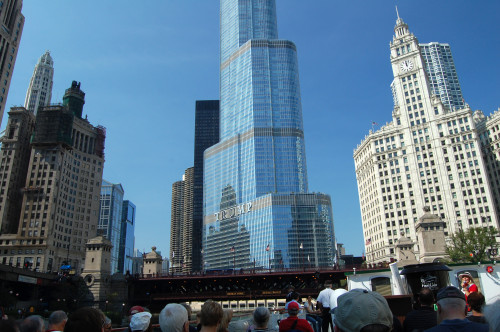 After the tour, we wandered to Millenium Park and took some photos at "The Bean" a.k.a. Cloud Gate. Later that evening, we had dinner at The Gage, an excellent modern Irish restaurant with a surprisingly good selection of seafood. The house poutine with pork shoulder, cheese curds, and jalapeños was especially tasty. After dinner, we went to the free Concert for Chicago by the Chicago Symphony Orchestra at the outdoor Pritzker Pavilion. It was a treat to watch the sun set behind the skyline with wonderful music and tens of thousands of friendly Chicagoans.

The next day, we started out by going to the Field Museum for Natural History, which was a pleasant walk from the hotel. Sue, the famous Tyrannosaurus Rex skeleton, was a sight to behold in the museum's grand lobby. We also saw a fantastic exhibit about the evolution of life since the formation of the Earth, and another about a tomb in ancient Egypt.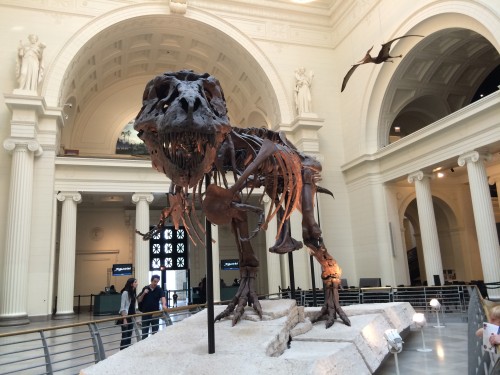 We met Sarah's friend Lynda for an early lunch at Dak, a Korean place near the Granville stop. We had some delicious crispy Korean barbecue chicken wings that rivaled Bon Chon in terms of deliciousness. Lynda was in the MPH program with Sarah, so needless to say they had lots of health policy gossip to catch up on.
Later that evening, we met up a few of my high school friends in the Near West Side neighborhood, which reminded me of the revitalized/gentrified Seaport District in South Boston. We had a wonderful dinner at Little Goat, the casual offshoot of the Girl and the Goat restaurant run by a Top Chef winner. After dinner, at Lynda's suggestion, we went all the way to the Adler Planetarium to watch the sunset. What a gorgeous view of Chicago! On our way back to the hotel, we also caught the amusingly patriotic light and music show at Buckingham Fountain.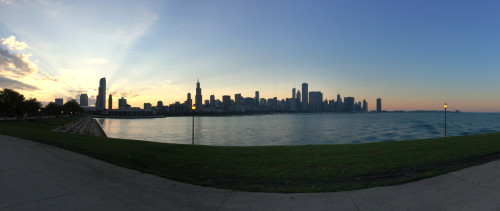 The next morning, after a fantastic breakfast at Ge Pa De Caffe, we perused the collections at the Art Institute of Chicago until our feet hurt. This museum is massive. We saw the special exhibit on René Magritte, whose spare surrealism reminded me of Salvador Dalí and Chris Van Allsburg picture books like The Polar Express.
That afternoon, we took the L north to the Sam Adams Lakeview Taco Fest where we met Lynda and Max. It was a little strange seeing sponsorship from Sam Adams—ostensibly a Boston brewery—in Chicago, but either way they had a great selection of beer and tacos. From traditional tacos of chicken, pork, beef, goat, and fish with homemade mole sauce, secret pico de gallo recipes, and "blow your head off" hot sauces, to Asian-fusion recipes with pickled daikon and and marinated pork belly, there was something for everyone. We also loved the live music from 90s cover band The Hot Sauce Committee. To top it off, Max introduced us to Jeni's Ice Cream, a small chain with incredible flavors like brambleberry crisp, goat cheese with cherries, and wildberry lavender. We definitely need to find somewhere like this in Boston.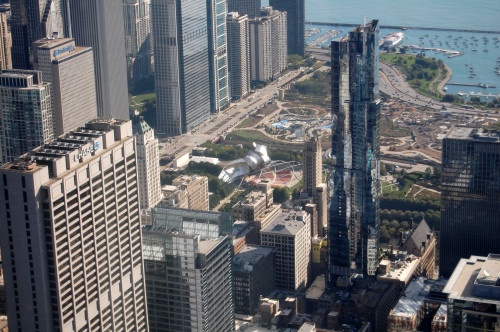 Monday was our last day in Chicago, but we still had one sight to see: the Willis (née Sears) Tower, and the Skydeck on the 103rd floor. Unlike the occasional showers and downpours on Saturday and Sunday, the visibility from the top was tremendous, and we could see all of the places we had visited in the previous three days, plus another 50 miles beyond. And of course, we had to pose for the obligatory jumping photo on the glass-bottom ledges a quarter mile above the street below: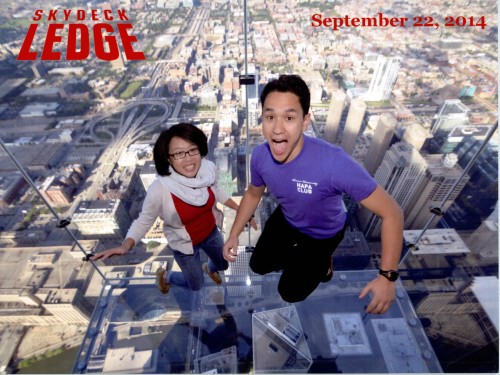 What a fantastic trip! We will miss Chicago, and we look forward to visiting again.